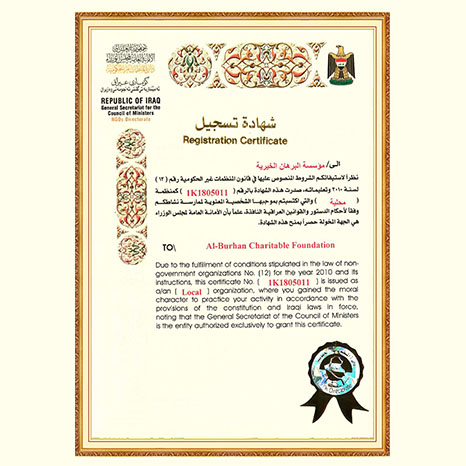 About Us
Al-Burhan Foundation
Al-Burhan Foundation is a non-profit, charitable organisation which was founded to help rebuild Iraq to become sustainable and prosperous country. Our mission is to play a leading and effective role in working towards the development of Iraq and its citizens. We aim to improve their living standards by offering housing, healthcare, education and rehabilitation projects of facilities across all sectors.
With a broad portfolio of charity projects ranging from large-scale constructions to simple humanitarian relief, Al-Burhan Foundation strives hard to envisage Iraq rejuvenated to its former glory with comfort and security for all Iraqi citizens.
"
The activity of any modern, international company can hardly be called all-encompassing if important things like charity and sponsorship are missing from its priorities.
"
- Imad Burhan, Founding Director
Our small team located in London and Kut is responsible for initiating, monitoring, publicising and coordinating charity projects. ABF's field officers work closely with the local community to ensure that crucial needs of the population are answered. Moreover, through using manpower and using sources available in the area, we commit to enhancing Iraqi employment sector and businesses.
Projects we are involved with vary from renovating and upgrading public infrastructure and facilities, housing initiatives and donation schemes for the vulnerable people, education projects offered to illiterate adults and children belonging to impoverished families, one-time financial support for individuals to fulfil their plausible dreams as well as many others.
Our support towards the Iraqi citizens aims at giving them chances to lift themselves from poverty and to grow and prosper. Particular emphasis is laid on education which we believe is the core of progress. Illiterate adults and children who due to their gender or family's poverty are not able to go to school and to learn, will never be able to compete with educated individuals and to improve their life possibilities. Only educated young people can make contribution to the development of their communities. This is why every family enrolled into our support scheme is obliged to send their minors to school. We have also built learning centres and financially support families who wouldn't be able to afford their children's schooling otherwise.
Al-Burhan Foundation is proud to support Iraq and its citizens. With every undertaking we pursue, we aim to see the country rebuilt and thriving and the people accomplished and successful, able to help themselves, their families, their communities and the state as a whole.